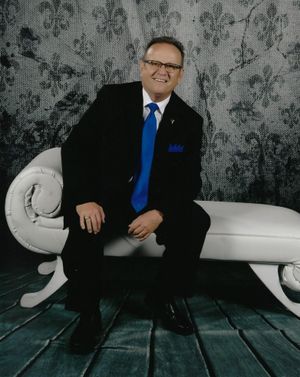 Dennis, a Chapel Valley Recording Artist, was born in Nicholas County, Kentucky to Pastor Clay and Elizabeth (Mitchell) Jolly, who were devout Christians and pastored more than 60 years. Dennis and his wife, Ellen (Fenton) Jolly, make their home in West Union, Ohio and attend church at Ripley Church of the Nazarene. They have a son, a daughter and grandchildren. 
Growing up Dennis and his brother attended church almost daily with their parents as his father would preach revivals and camp meetings all over Ohio and surrounding states in addition to pastoring his own church. His parents played and sang during the services so it was natural that the boys would join them. At the age of 15, Dennis gave his heart to the Lord and formed his own group, The Glory Boys, with his brother and best friend. He just celebrated 53 years singing in various groups. 
Dennis has engaged in other facets of the music industry including publishing a gospel newspaper, hosting a gospel show on television, radio deejay for 14 years, emceeing gospel music at local and state fairs and had the honor to bring to the stage three different Ohio Governors, co-hosted gospel music seminars with Dr. Jerry Goff in Ohio and South Carolina, and promoted various gospel music concerts including an annual Good Friday Concert for 34 years. He hosted a gospel music fundraiser for the Adams County Christian School and raised $35,000 in one day by allowing his head to be shaved and convincing the Chief of Police to do the same. 
Dennis has been recognized for many of his accomplishments such as Golden Mic Award in 1993, received recognition by the Ohio Senate as "Nation's Top Southern Gospel Music Disc Jockey in Small Market Radio" in 1994, nominated top 5 as "Favorite DJ of Small Market 1990-2003 and came in 1st in 1994 and 1999 and received recognition in Singing News magazine. In 1990, he was commissioned as a Kentucky Colonel. 
In 2019, after 3 years of prayers and encouragement from friends, Dennis stepped out in faith and recorded a project titled "Red, White and Blue" in honor of our great country. Several years ago he recorded 2 other projects and is currently in the process of recording his 4th, "I'll See You in the Rapture", which is anticipated to be out in the summer of 2020. 
Dennis' goal is to reach out to people through his testimony and song. He wants to be available to all churches, big and small, but especially to the small churches who feel like they can't afford to bring in the big name groups. He does not charge to come and sing; however, he will accept a love offering. He considers it an honor and privilege to sing in any venue, whether it's in a church service, revival, camp meeting or singing convention- indoors or outdoors.